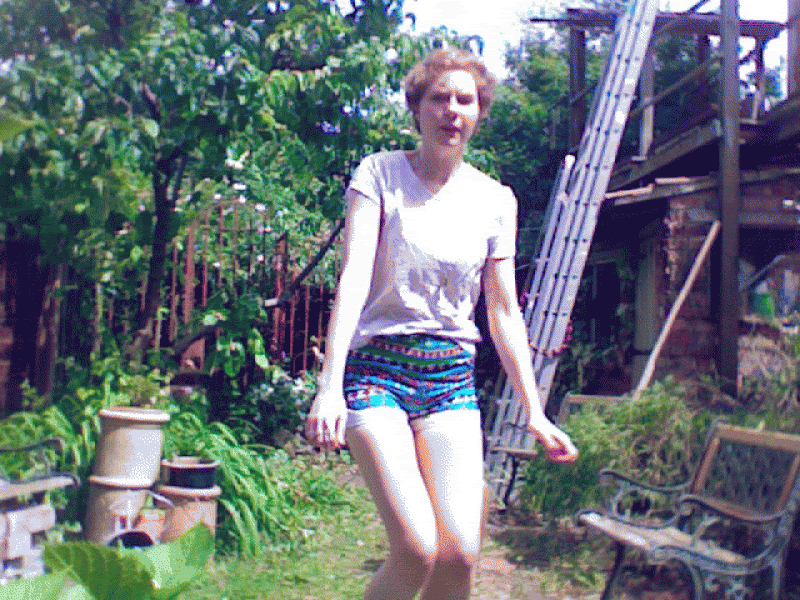 This

gif amuses me greatly. From my earnest/in pain face on the first shot, to the fact that using images from two different jumps means you get 2 angles like those 3D MIA photos that did the rounds a while back. Plus my black socks, because I wore creepers, & in my mind creepers require socks, ok? Anyway how beautiful are these shorts? They're vintage 60s/70s, handmade I think because when they arrived from the magic etsy land I had to re-sew the seam around the crotch. They also came with a tunic in the same print, but it's too small for my massive rib cage. Thinking of selling...or waiting until I get bored of/too big for the shorts to sell again as a pair. So lovely though! Anyway, because I want to, here's an A-Z...

Age: 19
Bed Size: Double
Chores you hate: Emptying the dishwasher. Because it's so loud & clanky. If that is a word...
Dogs: I like elegant hairy ones. Like Lurcher's. Or maybe a Dalmation. I'll stick with my elegant, very hairy, evil cat for the moment though.

E
ssential Start to your day: Guardian suduko. So middle-class. Shoot me.
Gold or Silver: Silver.
Height: 5"11 last time I checked. Hoping it's got to 6 by now!
Instruments I play: Drums. With my hands on desks/thighs/heads. Not on the drum kit I have that has never been put together though, no.
Job Title: Dirty student/bookseller
Kids: I want loads. A brood. I need at least 4 to guarantee one ginger one. All boys, maybe one girl. But definitely a boy first. The names I have so far are Helvetica (if it's not copyrighted), Walter, Quentin & something I keep forgetting. I'm the broodiest person I know. & yes my kids might get bullied. Hopefully I will raise them to be awesome enough not too, even with their stupid names.
Live: Bristol! (said in a football chant manner, as it should be)
Mum's Name: Diane
Nickname: Ginger, Ginge, Ginger Buns, Bunyan, Jezebel, Bambi, Legs, Ginger Jess In The Tiny Dress. Everyone gives me a nickname for some reason...
One wish: Rupert Murdoch never to have existed.
Pet Peeve: Ignorance. & people who walk slowly in front of me.
Quote from a Movie: "What is your greatest ambition in life?" "To become immortal...and then die." From A Bout de Souffle AKA Breathless. Although much of it is quotable.
Right or Left handed: Right.
Siblings: Sister who's 10 years older than me, brother who's older than her.
Time you wake up: I wake up usually about 8, then I lie staring out my window/reading/watching stuff on the laptop/talking if there's someone in my bed. I get up about 9/10. Earlier on Friday's for physics.
Underwear: Done best by the French.
Vegetables you dislike: Aubergine.
What makes you run late: I don't like being late, so I'm not really. Probably just forgetting the time. Like I'll be doing something that I think will take the 10 minutes before I have to leave the house & it ends up taking half an hour without me realizing it. I don't like to make people wait though. It's rude. LAURIE.
X-Rays you've had done: My head when I fractured my skull. Teeth.
Yummy food you make: My flapjacks & triple chocolate (with peanut butter) cookies are like world renowned.